Saturday delivery can be added at the time of shipping to an individual order or you can create a new carrier code with it permanently enabled.
Platform: DSX or Cloud
Applicable Carriers: FedEx
You can do this on the fly or you can automate the process depending on your Scope of Work (SOW).

SOW: 1:1 shipping choosing Saturday Delivery on the fly. If you prefer, you can also set this up using Option 2 below and the service will show up in your rate shop and Shipping Method drop-down list.
Please note: Saturday Delivery has to have sound logic to rate successfully. If it is Tuesday you cannot send a package using 2DAY shipment with Saturday Delivery. DesktopShipper does a good job of filtering out incorrect ship methods in your Service Groups based on ship date and method selected but please check for accuracy.
1. Make sure an applicable FedEx service such as 2Day shipping is selected.
2. Click on Other Services.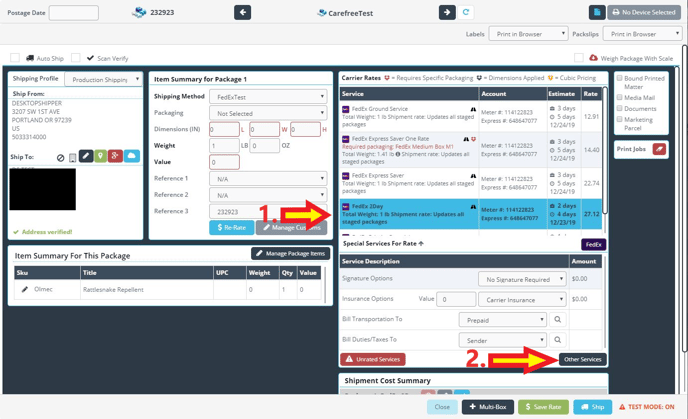 3. Select Saturday Delivery (the amount will show up once you click close)
4. Review order for accuracy
SOW: I want all or most of my FedEx 2Day orders to ship Saturday Delivery.
You have two options listed below as Option 1 and Option 2.
Option 1. Add the SATD Saturday Delivery Special Service to assigned and check the box to have it auto-apply. Save your changes. This will need to be disabled once the time window for Saturday Delivery is passed.
a. Navigate to Carrier in Settings and tab over to Carrier Services.
b. Select the service that you want to have
Option 2. Create a new carrier code for Saturday Delivery. This service will need to be put into your service groups (and/or) marketplace shipment inbound mappings or you can select it on the fly at the time of shipping from the shipping method drop-down list during 1:1 shipping or while bulk updating.
a. I suggest taking the current carrier code for 2DAY shipping (F11) and adding to the code name. For Saturday Delivery with 2DAY shipping type F11SAT and add the word Saturday in the Class Name.
b. Now that you have a carrier code that is always using Saturday Delivery, you can add this to your Service Groups, Marketplace Shipment Inbound Mappings or select it on the fly from the Shipping Method drop-down list when 1:1 shipping as desired.