Label Printer Setup
How to setup a label printer:
Open Cloud > Select Settings > Select Devices
Download the Print App > Run the Download
If windows defender prompts (Windows protected your PC) > Select More info > Run Anyways.
Follow the instructions in the Setup Wizard
Use your cloud login to start the program.
If the program does not open.
Right Click DS Cloud Print Utility (it will be found under Hidden icons) > select Configure (If you can't find DS Cloud Print Utility under hidden icons you may need to run the program for the first time.)
Add Device > Select your Printer (If your Label size is not displayed follow the next steps)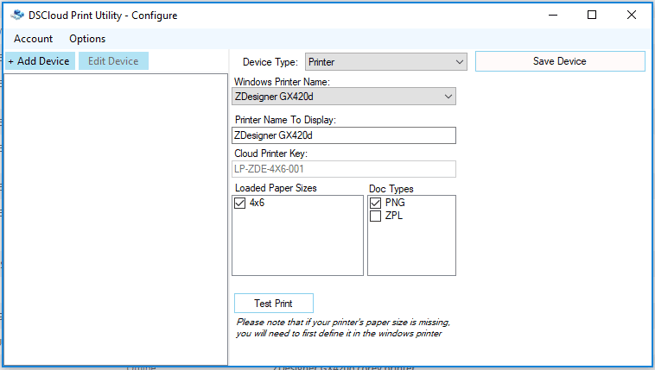 Open Windows > Printers & Scanners >Select the Device > Select Manage
Select Printer Properties > Select Stocks > Create New >Make sure to set Dimensions to the correct label size.
Open DS Cloud Print Utility > Select Edit device > Check the correct label size > Save and test print.
Select your printer in the cloud and test print.
Finished