shipV2.desktopshipper.com
What is Insurance Powered by Parcel Protection?
DesktopShipper is partnering with Parcel Protection to provide our customers an easy way to access insurance for all carriers.
Why is Insurance Powered by Parcel Protection useful?
With Insurance Powered by Parcel Protection, customers can easily navigate claims without having to utilize additional software.
---
Getting Started
Navigate to the Settings dropdown and select "Insurance".
Slide the toggle to the right to accept the terms and conditions.
---
Applying Insurance to a Carrier Code
Navigate to the Settings dropdown and select "Services".
On the left-hand side, select the service you want to make the insurance applicable to.
Drag the DS Insurance Powered by Parcel Protection service from the disabled special services and drop in the assigned special services column using the hamburger icon.
Note: Drop the special service into the Assigned Special Services column between existing assigned services or at the top.
Check off the white box next to the Assigned Special Service if you want it to auto-apply to the ship-method on every order.
*If auto-apply is not selected, the special service will appear as an option to be manually selected on orders being shipped via UPS Ground as desired.
Additionally, you can assign rules to the special service that will determine when it is applied to orders using the chosen ship-method.
Click "Edit" on the Assigned Special Service.
Set the rules for determining when the Assigned Special Service will be applied and click "Save".
---
Applying DS Insurance Powered by Parcel Protection on Individual Orders
Click the order to launch the Order Manager.
Click the Special Services button that appears on the rate for the order.
Here you can you apply DS Insurance Powered by Parcel Protection.
1. Enable the service by toggling to the right.
2. Choose DS Insurance Powered by Parcel Protection from the insurance options drop down.
3. Enter the value of the order being insured.
4. Cost of applied insurance.
---
Filing A Claim
Navigate to the Shipments page and select the order you need a file an insurance claim for.
Package details window opens.
Navigate to the Additional Carrier Information tab and click "File A Claim".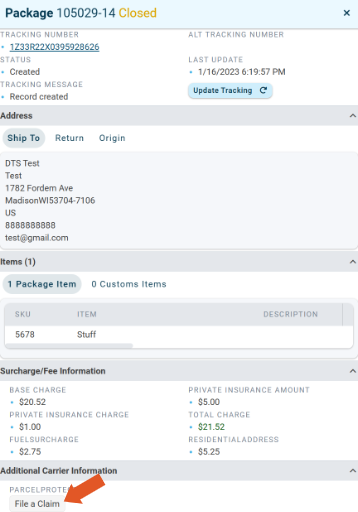 Package details with populate automatically.
Select "I'm not a Robot" and then "Search Package".
Next, select a reason for the claim from the drop-down and click "Choose Claim Reason".
After choosing the claim reason, you will receive a success message or an error message indicating if the claim was processed accordingly.
---
Important Information
*Claims require Tracking and Ship Date information.
*Claims need to be submitted no sooner than 18 days after shipping for domestic shipments, 35 days after shipping for international, and no later than 90 days after shipping.
*Billing: Once a week, DesktopShipper runs an insurance report for the previous week's activity. An invoice is created on that report and the card on file will be charged the corresponding amount, $1.00 per $100.00 of coverage.
---